Meet Linda
Short & Sweet
I am a writer, educator, game maker and trampoline jumper.
I write fiction and non-fiction for children and adults.  I write to delight, and in these challenging times, unite.  I love talking with kids of all ages.  My books have been translated into ten languages (so far) and my writing has appeared in Highlights Magazine for Children and on PBS Learning Media.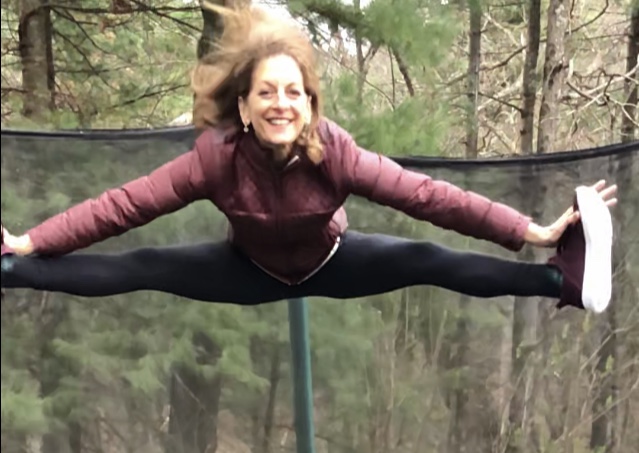 The Sit-Down-With-A-Cup-of-Tea Version
I grew up in Millis, a small town outside of Boston, Massachusetts. As a kid, I could be found in one of two places: outside, playing ball with my brothers or inside, curled up in my favorite cozy chair, reading a book. Every once in while my dad would arrive home from work with a twinkle in his eye. The twinkle meant he'd brought me a book from Boston, where he worked, 19 miles away. There was no Internet and we could only watch TV on Sunday nights, so books were my magic carpets. As a nine-year-old, I devoured Encyclopedia Brown and anything by James Herriot. My mom was a wonderful artist. I spent some of my happiest times in her workshop, making and painting things like boxes, stools, tables, puzzles and sometimes big canvases.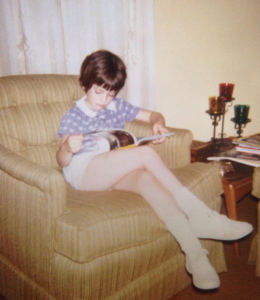 The author at age 6, in her favorite reading chair.
I started writing in a journal in third grade, and I've never stopped. When I was in fourth grade, I was 100% sure what I'd be when I grew up: a librarian! I loved reading books so much. Later, I discovered I wanted to be a lot of things but librarians are still some of my favorite people and I still spend some of my happiest hours in the library. Thanks to my eighth-grade English teacher, Mrs. Russ, I learned to look really closely at what I was reading. Wow! I started to see that there were so many pieces – action, descriptions, tone, emotion, tension, dialogue, point of view and more – that work together to make a great story. In my social studies class with Mr. Dooling, I began to hear the knocking of my own "voice," that certain way of saying things that is unique to you. (Thank you Mrs. Russ and Mr. Dooling!)
After working for an advertising agency in New York City (where I learned how to really get a message across) and later for Outward Bound (where I learned a life motto – "To serve, to strive and not to yield" — and remembered how much I love nature), I landed at Harvard. There I studied how young people and their teachers think about living systems. Like a spider's web, what happens on one part of the web affects every other part. The same is true of living systems, whether an ant colony, a school, a city or our climate. What's really interesting is that these different kinds of systems share some similarities, and they can act in surprisingly similar ways.
(You can learn more about my systems work here).
My mother always made the most creative birthday cakes. This one, my brothers, sister and I made for her!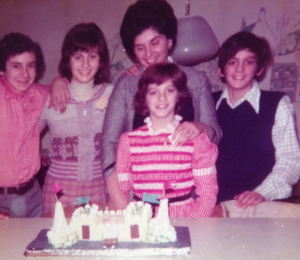 After seven years (I loved every minute, well, almost every minute), I received my doctorate in education from Harvard and began working as a systems educator, helping Fortune 500 companies, city government officials, nonprofit leaders and people of all ages to "think about systems." That means not focusing on the parts of an issue or challenge, but looking at how the parts all work together to produce the results you see. I especially like working with young people to discover their own natural understanding of living systems, through stories or through experiential games, board games, really good website content, puppet shows, museum exhibits, computer games and simulations and hopefully soon, television shows.
With three children, I care deeply about the world my children will grow up in.  When I'm not writing or consulting, you might find me…
… on a farm or in board meeting at Gaining Ground, a non-profit organic farm that gives 100% of its harvest — tomatoes, kale, cucumbers, eggplant, even maple syrup — away toward hunger relief.
… making posters or hosting house parties with Mothers Out Front volunteers who work to respond to climate change and create a livable planet for all.
… in a circle of Black, White, Asian, Japanese, Hispanic, Indian and Bi-racial women dedicated to equitable treatment for all people. We call ourselves WE-R and our goal is to understand, build, unite and inspire.