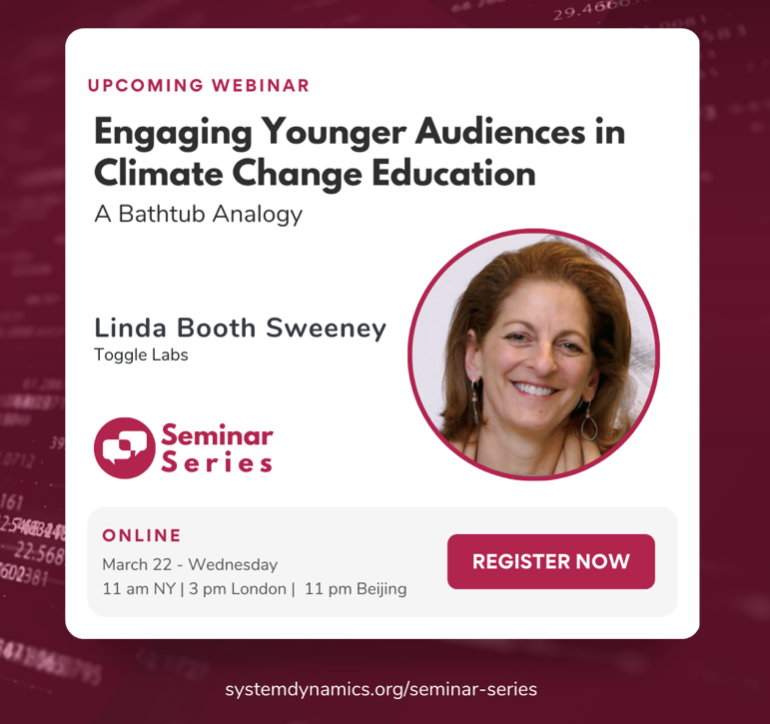 Talking to Kids about Climate Change? Start with a Bathtub
March 22 @ 11:00 am

-

12:00 pm
If you're looking for an age-appropriate way to talk to children and teens about climate change but you're not sure where to start, join me on March 22 (11-12 ET) for an interactive webinar hosted by the System Dynamics Society.  The cost is $35 and you can REGISTER here.  
Here's the webinar description:
It can be difficult to talk to children about climate change when much of what we hear and feel is DOOM AND GLOOM. In a poll earlier this year, NPR reported that fully 84 percent of parents, including a majority of both Democrats and Republicans, agreed that children should be learning about climate change. But, only 45 percent of parents said they had actually talked to their own kids about it.
Here's the dilemma:  Adults need age-appropriate ways to talk about climate change that are honest but also inspire hope.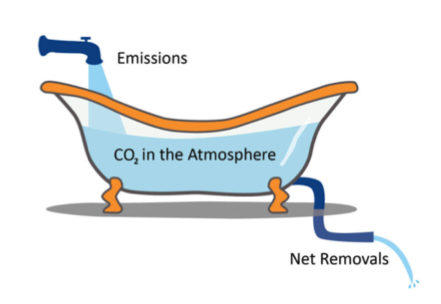 Children need analogies that " stick" and provide them with a sense of agency.  They also need opportunities to play, experiment, and interact with meaningful content to learn and retain ideas.
Luckily an everyday object – a bathtub – can be a powerful metaphor for thinking about the dynamics of climate change where the bathtub represents the climate system and the water level represents the amount of CO2 (and greenhouse gases) in the atmosphere.  The THINK LIKE A BATHTUB initiative is designed to help people of all ages communicate basic climate change dynamics and take actions that "turn down the faucet" and "open the drain."
As part of this session, I'll share a variety of THINK LIKE A BATHTUB activities including:
THINK LIKE A BATHTUB, a three-minute, youth-narrated VIDEO created for COP26 United Nations Climate Change Conference in Glasgow.
An 8th-grade science enrichment unit that will be pilot tested by science teachers in Philadelphia this spring.
An interactive, augmented reality THINK LIKE A BATHTUB app designed as a hands-on educational tool to engage students in one of four key shapes of climate change — a bathtub. Using the app, students (ages 8 and up) first engage in thought experiments around our current rates of global warming pollution, e.g., humans are putting carbon dioxide into the atmosphere at about twice the rate that natural processes are removing them. Students are then able to use the app to demonstrate their understanding with their peers and adults. (See the how-to video for educators here.)
Experiential Games (from my book, The Climate Change Playbook).  To get a sense of how these experiential learning games work, you can download a copy of the Bathtub Game here)
Climate bathtub-related resources and journal articles on Pinterest, including my original Bathtub Dynamics research with Professor John Sterman at MIT.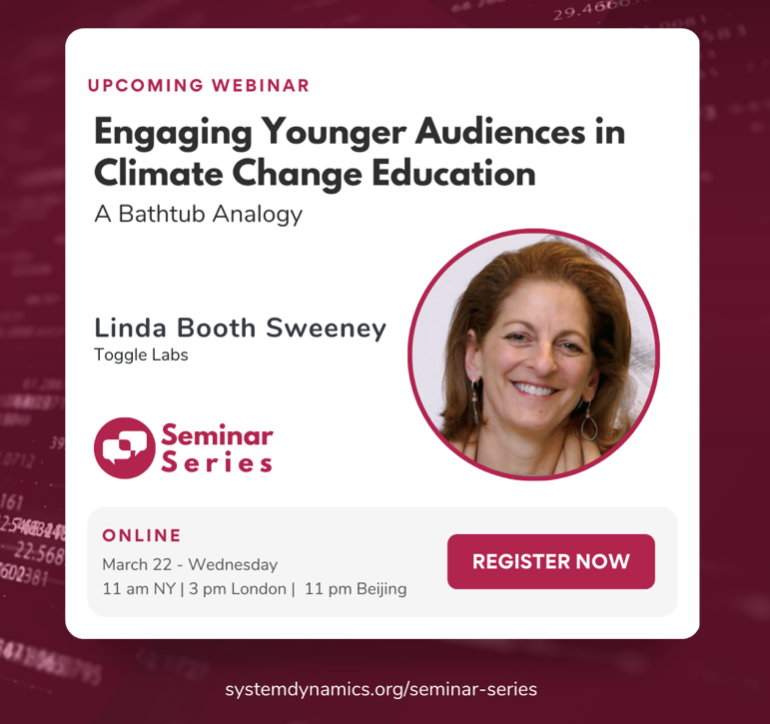 Come with scenarios, ideas and any questions you have about talking with children about climate change.  I look forward to seeing you on March 22!
— Linda